June 12th, 2009
 I was talking with misaditas earlier this morning about what I'm writing these days.  "A bit of this, a bit of that," I told her.  "I keep trying to tackle Homecoming, the SF novel,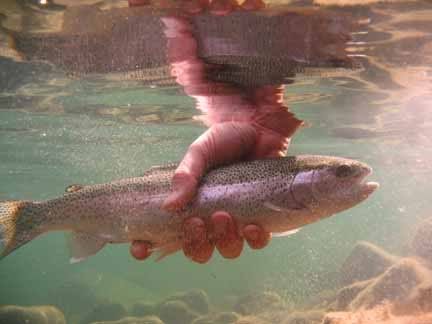 but I just don't know … maybe I should finish up SmallSighT, the Thorne's Quest prequel.  I just don't know…"  So articulate of me, don't you think? 
As we continued to discuss the matter — she had several good suggestions of possible strategies to try — I realized that I don't believe I can pick what project I next give my heart and soul to.  It's like hunting, I said to her.  When you go out into the woods, you can't thrash around wildly or charge off in every direction at once.  You have to walk quietly.  Let the game think that you're not dangerous.  Let them come to you.
After we stopped talked I continued to think about the matter.  Maybe it's more like fishing.  Really, I know nothing about hunting, and in fact I'm philosophically opposed to it, unless what you're pointing at the animal is a camera.    But I did do some fishing as a young'un.  The main thing is to be quiet.  You paddle your canoe to a likely spot, let down your line and then just … wait.
I think that's what I'm doing these days.  I've paddled my writer's canoe to a good spot.  I talk to lots of writers every day.  I read interesting material, both fiction and non-fiction.  I try to soak up the world around me, with special attention to what various experiences feel like.  I people-watch like mad.  If you catch me staring at you, it's probably because I'm pondering whether one of your mannerisms would fit for a fictional character.
I've also let down my line.  It's a long line, to reach the deep waters.  I don't mind the little fish of short stories, and I have caught a few of those in the past few months, but I'm hoping to hook another big one like Thorne's Quest.
So now I'm waiting.  Just sitting in my canoe and being.  Kinda comfortable, actually.  The sun's warm, but I'm in a shady spot where the fish may come.  I can hear loons in the distance.  Wake me when it's time for lunch; maybe I'll dream an interesting novel idea…